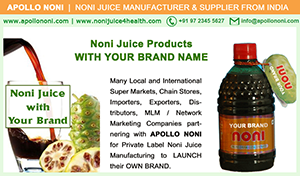 A Private Label Noni Juice is when you wants to offer a unique Noni Juice Products and market it WITH YOUR BRAND NAME. Just think of Noni Products that are Named and Promoted by different stars and designers – and How Profitable they are when they're quality, aspirational products. Today, many Local and International Super Markets, Chain Stores, Importers, Exporters, Distributors, MLM / Network Marketing Companies partnering with APOLLO NONI for Private Label Noni Juice Manufacturing to LAUNCH their OWN BRAND. You can, too.
When you Partner with APOLLO NONI to offer your line of Noni Products, Noni Juice, Noni Soaps, Noni Face Wash, Noni Facial Kits, Flavor – Flavoured Noni Juice, Customized Noni Juice, Health Care Juices Products ENHANCING YOUR BRAND and bringing ADDED VALUE TO YOUR CLIENTS. Done right, It's the perfect opportunity to change the face of your business, making it more appealing than ever. After all, a brand is more than a name or a symbol – It's a reflection of Who you are, What you stand for, and How you engage your clients. So if you want to be more than just another place to buy common Noni Juice, it's time to partner with APOLLO NONI in INDIA to CREATE YOUR OWN QUALITY NONI JUICE BRAND.
We have readily developed formulas for varieties of Noni Juice and Herbal Ayurvedic Juices – for complete Health Care – which are known for their effectiveness. Our formulas include products for various Health problems.
» Noni Juice
» Pure Noni Juices
» Noni Juice with Ayurvedic herbals, Noni Juice, Aloe Vera Juice, Amlaki Juice, Trikatu Juice, Ashwagandha Juice, Vidang, Brahmi, Rasayan Churna, Grapes, Green Tea Juice, Wheatgrass Juice, Goji Berry Juice, Alfalfa Juice, Moringa Juice.
You can Trust Apollo Noni, When you put YOUR OWN BRAND NAME with OUR QUALITY NONI JUICE PRODUCTS, you'll Enjoy High Quality Best Noni Juice, and a partner that will be with you every step of the way.
Apollo Noni can help you:
» Launch your own branded Noni Juice Products
» Raise in-house awareness of your Noni Juice Products
» Re-launch and re-energize your Noni Juice Products
» Boost sales through events and promotions
» Approach clients with special Noni Juice Products Offerings